Crisp air.  Blue skies. Colors of the trees.  
Fall is here – A wonderful time of year for a wedding, especially outdoor weddings.
Fall colors are dominant and for weddings, that usually means floral centerpieces take charge and set the "stage."  In many ways, it is easy to decorate in the fall.  I usually see more requests for neutral linens and neutral overall motifs where the florals become the dominant element.  There is good reason for this.  It is the plethora of colors available in nature.  Mixed bouquets of color or choosing a monochromatic approach of orange or yellow are both very effective.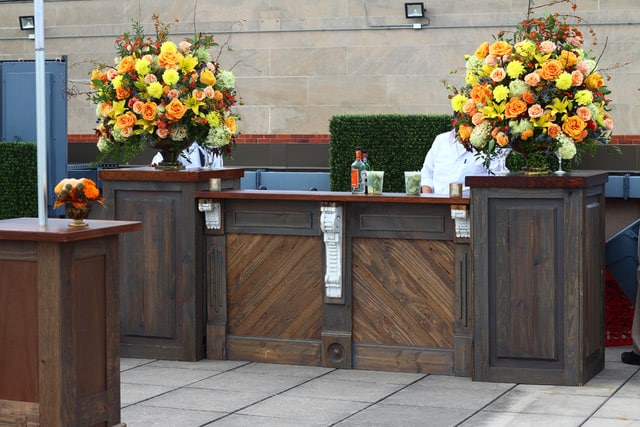 Over the years, we have worked with our friends at Vogue Flowers for a number of lovely centerpiece options.  As a designer, I look for specific shapes and heights for my designs.  I love mixing tall, dramatic centerpieces with low options to create strong statements in a reception.  The good news is, this also has a positive effect on the budget.  
When it comes to selecting the flowers, I rely on my friend, Steve Papoulakos and his 36 years of experience at Vogue Flowers to advise me.  Season after season, growers will experience more success with one variety over another.  Here is where Steve's expertise is so important.  Get to know you floral suppliers and rely on them for good advice.

The colors of fall can be brought into a wedding reception in wood tones with the right choice of furniture such as bars, tables, food displays, chairs and other party rentals.  My favorite stain is rich English Chestnut.  It is warm and plays well with other colors while allowing the grains of woods to radiate in countertops of bars and our wonderful knotty pine tables used as head tables and for food displays.  I designed and built live edge tables with gorgeous black walnut and sycamore.  Nature woods as high bar tables or coffee tables at lounge seating groups add a unique touch to a special day.