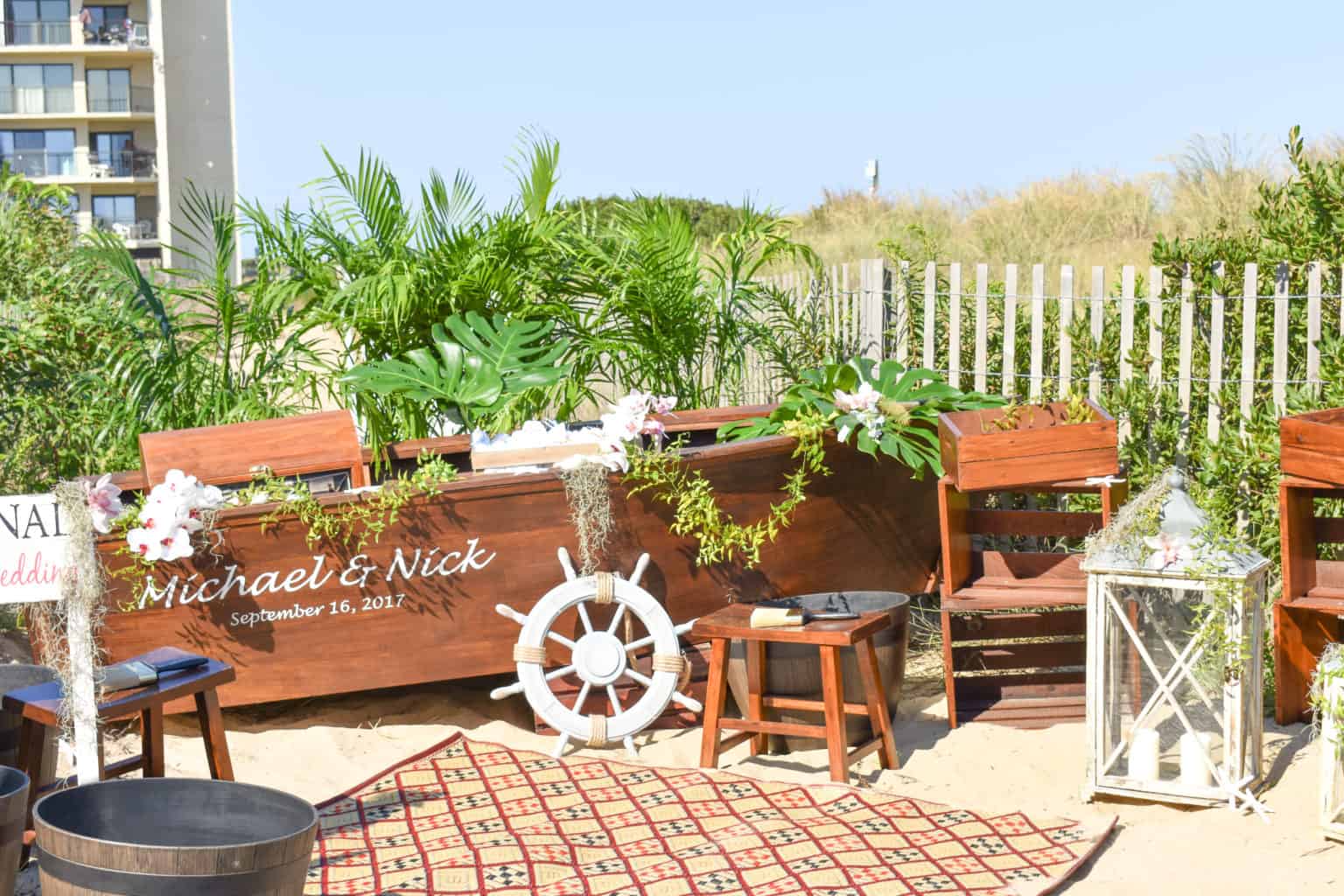 Will you build me a boat? When I received this email, it grabbed my attention. Wow! I can build a Boat Bar; a Boat Sofa, a Boat Stage Set… My imagination took me in may creative directions. Once I hoped on the phone with the couple and listen thoroughly, I quickly understood that the couple had dreamed up a wonderful approach for their wedding service on the beach.
The bride asked if this could be done. Can we make her dream come true? Of course, the background question is, can we make the dream come true at a reasonable price. The answer is yes. For 25 years, my team at Ampa has designed and built just about everything.
In a traditional church wedding, guests arrive at the Narthex or antechamber of the church before entering the Nave or body of the church. The bride's "nave" was the beach and her narthex was at the dunes. A quick hand drawing for her approval and finishing touches the couple selected from Ampa's vast in stock inventory of theme decorations and event rentals completed this part of their order. The entrance of a "church" created by the Ampa custom fabrication shop.
The total project included the custom built boat that was lettered with the couples name and dressed with lanterns and finishing touches for a lovely greeting "vestibule" prior to guests walking on the beach. The couple enlisted a friend to sit in the boat, greet guests as they approach the service and present them with a program. Special event rentals, and party rental chairs for the beach and lighting for the reception wrapped up a complete program delivered and installed by university trained theater technicians who are Ampa's event installers.
Custom Fabrication was how Ampa was born. Years ago, I was asked to build a Cowboy stage set for Phillip Morris. More than 25 years later, Ampa Events is designing dreams for couples throughout the Mid Atlantic. I love working with couples and families that have a unique requests. Currently, we are building boxwood planter boxes for privacy screening. This boat was a fun request. A custom church stage set with stain glass window was my largest and most interesting request. I have enjoyed countless other unique ideas over the years. Challenge me! I love the creative process and building dreams!
At Ampa, I combine, more traditional services such as providing party rentals – tables, chairs, shepherd's hooks for the beach or garden, stages, linens, general equipment – along with event lighting, drape, chandeliers, floral arrangements and other specialty equipment, to achieve the desired outcome for a couple. A unified approach to designing and executing an event, has many benefits including lower costs and making life easier for everyone. Designing …and building… dreams describes Ampa Events perfectly.